Phoenix's Must-See Attractions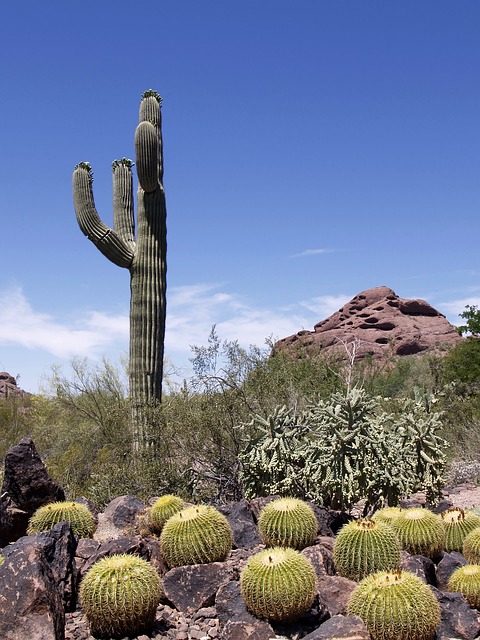 Whether you are new to Phoenix or lived here for years, Phoenix offers attractions of all types.
Below you will find a list of 6 wonderful must-see attractions.

 Arizona Science Center, 600 E. Washington St, ☎ +1 602 716-2000,
 Science and Technology, along with a planetarium and IMAX theatre. Be sure to stop in and see one of the many renowned traveling exhibits that make a stop here.
 Desert Botanical Garden, 1201 N Galvin Pkwy, ☎ +1 480 941-1225,
 Plant life of the Sonoran Desert, and of arid lands around the world. Also includes many examples of ethnobotany, or how plants are used to survive in the desert. As a consequence of the many plants in this area, there are also many desert animals such as lizards, birds, and occasional roadrunners.

 Heard Museum, 2301 N Central Ave, ☎ +1 602 252-8848,

 World famous museum celebrating Native American cultures and arts, especially those of Arizona and New Mexico. Be sure to check out the amazing collection of Hopin Kachina dolls.

 Pueblo Grande Museum and Archaeological Park, 4619 E Washington St, ☎ +1 602 495-0901,

 M-Sa 9AM-4: 45 PM, Su 1PM-4: 45 PM. The U.S.'s only city-operated archaeological site, exploring and interpreting the pre-Columbian Hohokam civilization. Very fascinating to look into the ancient inhabitants of the Phoenix area.

 Phoenix Art Museum, 1625 N Central Ave, ☎ +1 602 257-1222,

 Tu-Su 10AM-5PM (Th until 9 PM). 16,000 artworks with an emphasis on American, Asian, Latin American, and modern and contemporary. Free on the first Friday evening of every month.

 Ro Ho En Japanese Friendship Garden, 1125 N 3rd Ave, ☎ +1 602 256-3204,
 Tu-Su 10AM-3PM. Japanese- style garden with koi pond and tea house. Closed in the summer due to heat. $5, Student/Senior/Military $3, Under 12 free.