Overview of Phoenix districts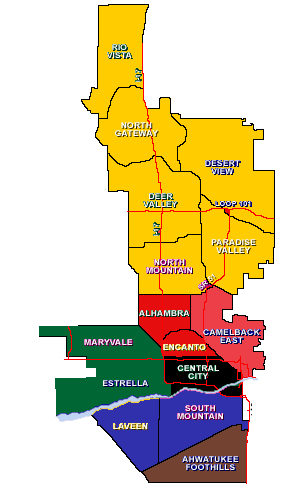 "'[https://commons.wikimedia.org/wiki/Main_Page Wikimedia Commons]"'
Overview of Phoenix districts
Downtown


This area spans approximately two to three square miles, with main arteries running along Central Avenue and Washington/Jefferson Streets respectively. Three out of the five tallest skyscrapers in Arizona are in Downtown Phoenix.
Midtown


There are a handful of officially recognized and protected historic neighborhoods and a variety of cultural, performance, and sporting venues in this area of town.
West Phoenix


Includes Maryvale and Estrella, this area has seen its better days and is suffering urban decline. However, a highlight in the area includes the Cricket Pavilion which is a great place to see a concert.
North Phoenix


Includes Deer Valley, Desert View, North Mountain, North Gateway, Norterra/Happy Valley, and New Village. The Phoenix Mountains are located here and offer a plethora of hiking and outdoor activities.
Camelback East


A very upscale area of town which contains the famous Biltmore Hotel, Papago Park, the Phoenix Zoo, and world class resorts. The surrounding area is also known to feature expensive office space, upscale stores, and luxury homes.
South Phoenix


This area is home to South Mountain Regional Park, the largest municipal park in the country. However, the neighborhood at it's base is fairly run-down and many sections are not safe. Laveen is a semi-rural area that is nonetheless seeing increasing development.
Ahwatukee


An upscale neighborhood of Phoenix, Arizona bordered on the north by South Mountain Regional Park, on the east by I-10 and the cities of

Chandler

and

Tempe

.